Property Restoration From Bat & Animal Damage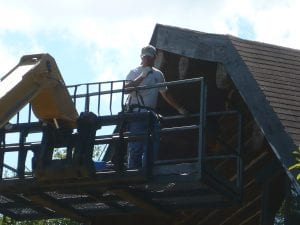 We are great a removing the bats and other critters from your dwelling, office, barn, house, etc.  However, property restoration could be required based on damage that can be caused while they were there.  We can help!!!
We have our residential building license so we are qualified not only to handle your removal needs, but any and all property restoration services as well.  Here are some of the property restoration services we can help you with, even if we weren't the ones that removed the bats and other wildlife.
Insulation removal/replacement that was damaged by urine and feces
Insulation is necessary to keep our homes warm, but it also provides a cozy habitat for certain animals to nest in. Bats, mice, raccoons, and squirrels can all destroy insulation. While sometimes the insulation damage is from gnawing or tearing activity while they are inhabiting the space, in most cases, insulation is damaged by the urine and feces of the animals.
Bats and raccoons are especially destructive; an accumulation of feces and urine can destroy the insulation fibers and soak the wood and/or drywall as well.  This detracts from the efficacy of the insulation and can create a health hazard. BatPro®'s restoration crews can remove damaged insulation and replace it with new insulation, ensuring that your original problem does not become a health problem.
Roofing
Roofs are a common entry point for bats, raccoons and squirrels.  Holes can get chewed open, shingles can get ruined or torn off and there can become gaps and holes that need replacing.  We can provide all roofing construction relating to your critter damage that was caused prior to their removal.  This includes removing and replacing the sheathing, shingles, soffits and vents.
Ridge Vent Replacement
The highest part of the roof is known as the ridge, which typically runs the entire length of the roof. The ridge vent is a vent that runs the length of the ridge; its purpose is to help ventilate the attic and keep shingles from buckling. These ridge vents are common entry points for bats, who crawl in through the vents and as a result, end up damaging them.  As we perform an effective bat exclusion, keeping it effective is to replace/repair the damage or you could end up with the same problem.
Other things that may need replacement based on entry points and the type of critters or bats you had are:
Chimney Repairs
Gutter Repairs,
Siding and Flashing repairs
Air Quality Repairs (from fungi sports or mold) that could have come from urine, water damage, etc.
Whether we removed the bats from your property or not,we can help you restore it to what it was before you had your bats, squirrels, raccoons, or mice.