More About Us
 Starting in 1997, the owner, Jason Grimm, began the journey resolving human and nuisance wildlife conflicts.  He was first contracted to capture and remove pesky Raccoons that were destroying the food caches for dairy farmers.  Then as word of mouth grew through the farming community, Jason was contracted to remove pesky Beavers for the local drain commission.  The Beavers were plugging road culverts, undermining the structural integrity of the road base.  Over time, as the industry evolved,  Jason was (and still is) busy removing all types unwanted critters from people's' homes.
Hence the name BatPro® Animal Control LLC, we transitioned over into specializing with bat pest control services providing bat colony exclusion / proofing services.   We are the only bat exclusion specialist that holds a Michigan Residential Builders license in Central and Western Michigan.  As a licensed builder that specializes with critter proofing structures, we will only work with solid materials to proof the main entry points.
Whether you have a noisy family of Squirrels living rent free or a colony of bats giving birth to more bats in the attic; we have your back and we will send them packing.  We are dedicated to help protect your most important investment.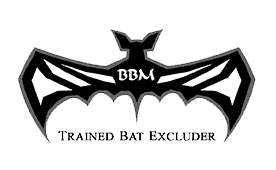 We are one of the ONLY BBM Trained Bat
Excluder in Michigan.
We take great pride in the fact we are one of the only "BBM Trained Bat Excluder" in the State of Michigan. BatPro® Animal Control knows how to get rid of bats in Michigan.  Please beware, not all bat control and bat pest removal companies are licensed, insured and properly trained to exclude bats.  There are no registered pesticides, poisons for bats.  Mothballs should never be used for bat pest control and ultrasonic electric scaring devices for bats do not work.  There is no quick fix to remove a family of bats  from a structure.  It takes a great deal of attention to structural detail to properly get rid of bats out of a home or office.
We work with all kinds of clients, residential and commercial.  We work with all kinds of structures – warehouses, homes, barns, condos, office building, basements to help remove, repair and improve them so you don't have repeat problems with bats.  When it comes to being a bat removal specialist, our team and our staff are Michigan's best resource for solving your your bat infestation or problem.